Women's multivitamins can work to support a woman's specific needs and plug any dietary holes that may be present. Many women take daily multivitamins to ensure they're getting the full required vitamins and minerals needed for optimal general health.
Women have different needs from a multi compared to men due to the different hormonal profiles and nutritional demands. These differences include their vitamin B intake, calcium, iron, and vitamin D ratios.
Incorporating a multivitamin into your daily routine can help to improve overall health, aging, and ensuring your body is being provided with the necessary tools for optimized function.
In regards to women's multivitamins, it's important to understand the following:
Iron is one of the most important ingredients in a women's multi.
 As we age, our bones begin to break down, which is why having vitamin D3 is important as it helps to absorb calcium and phosphorus; bone-building minerals.
Many women don't consume enough protein or are vegetarian or vegan, which is why they can be at risk for vitamin B12 deficiency. Multis will contain B vitamins to ensure your levels remain up to par.
Food4me health and fitness expert panel has put together a list of the top 10 multivitamins for women.
Our Winners
Best overall: Ritual
Best multivitamin for women over 50: Performance Lab NutriGenesis
Best chewable multivitamin for women: Smarty Pants Women's formula
Best performance multivitamin for women: Legion Triumph
Rankings
1. Ritual Multivitamin 18+
Ritual designed their multivitamin for women to be the only vitamin you would need to take on a daily basis. It is a clinically-backed multivitamin for women aged 18-49 to support and fill any dietary gaps.
Ritual uses completely transparent and traceable ingredients so you know exactly what you're putting in your body and where it came from.
Essential for women has done a really good job at narrowing down exactly what women are missing in their diet and putting it into a supplement – nothing more.
Rituals team of scientists identified these necessary ingredients and put them all into a non-GMO, gluten-free, vegan, USP certified and no artificial colorants or synthetic filler capsule.
Essential for women by Ritual easily takes the #1 spot for the best multivitamin in 2021.
2. Performance Labs NutriGenesis Multi for Women
Performance Labs is a tried and true supplement company with a great range of products, and their women's multi fits right in.
It contains more than 17 essential daily vitamins and minerals bioengineered with whole-food cofactors for optimal absorption so you get the most out of each ingredient.
This product provides 100% of your daily value of 18 essential nutrients for female health. NutriGenesis also incorporates a pre and probiotic-infused capsule along with added fiber and enzymes to help with digestive health.
3. Triumph Women's Sport Multivitamin by Legion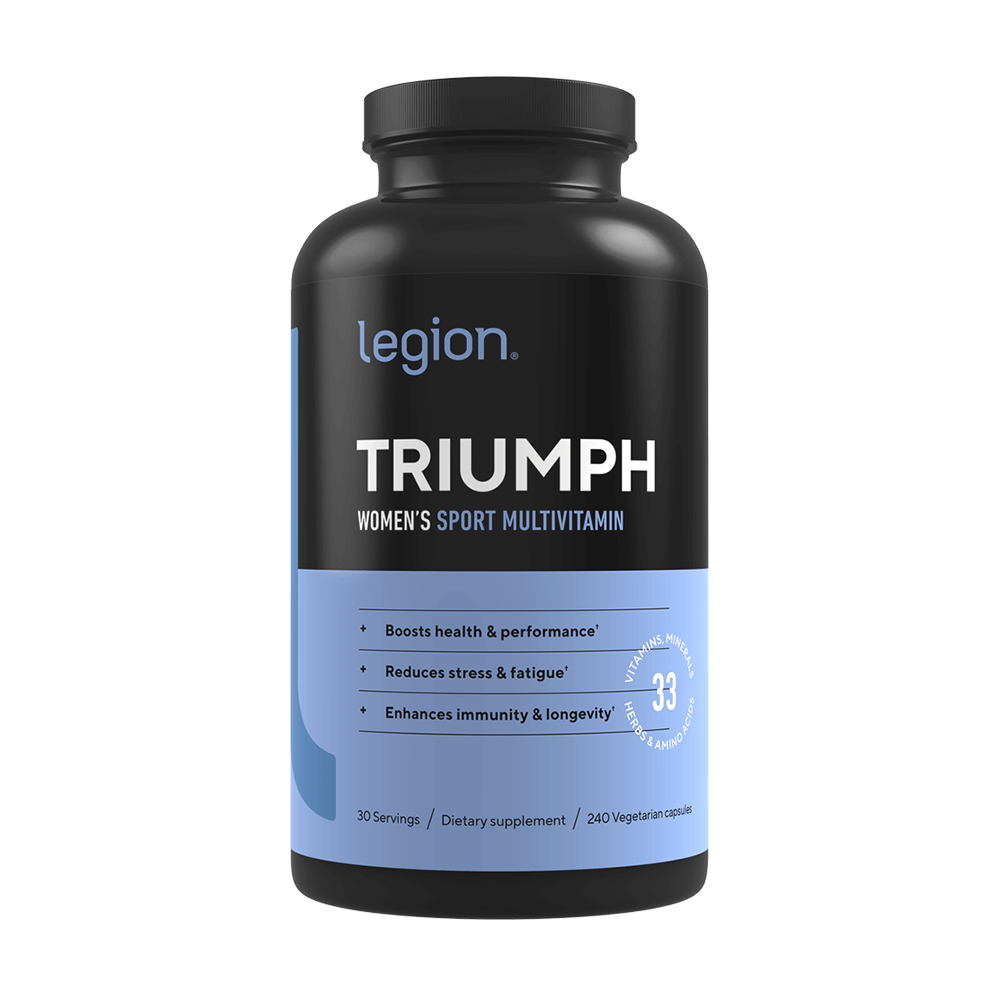 Legion has proven yet again that its supplements are hard to beat. Triumph women's sports multivitamin is packed full of 22+ vitamins, minerals and all ingredients are backed by peer-reviewed scientific research.
Triumph works to enhance health, performance, and mood; and fights to reduce stress, fatigue, and anxiety. There are no fillers, additives, or preservatives in this Legion supplement, making it one of the cleanest, well-researched products on the market.
4. Garden of Life Vitamin Code for Women
This Garden of Life multivitamin is supported by the use of fruits and vegetable powders which have huge amounts of nutrients that support the main "alphabet vitamins" and minerals.
Vitamin Code is specifically made for women to support them during their reproductive years with added antioxidant and immune support.
5. Now Supplements Eve Women's Multivitamin
Now Foods Superior Women's multi is packed pull of fairly average doses of pretty much all the ingredients regular multis have; the one difference is the mega doses of B vitamins in this product.
The soft gel delivery may be more tolerable to individuals that have issues swallowing capsules. This product is formulated in a GMP-certified facility and does independent testing, you know you're getting a good product.
6. Optimum Nutrition Opti-Women
Optimum Nutrition has created a multivitamin specifically geared towards the overall health and active lifestyle of women.
These specialized ingredients work together to help support bone health, energy, metabolism, and immunity. It even has extra nutrients useful for women like soy isoflavones and some herbal extracts like dong quai and the fat burning garcinia cambogia.
7. SmartyPants Women's Formula
SmartyPants ingredients are pretty impressive. They contain at least 100% of your daily value of three important nutrients – Vitamin D, Iodine, and Folate.
The ingredients in these products help to improve many physiological markers like immunity, energy, and heart health; however, one serving requires you to take 6 gummies which can be a lot for many people.
8. Vitafusion Women's Multi
Vitafusion complete multivitamin and antioxidant supplement have everything you made need wrapped up in two gummies per serving.
With no high fructose corn syrup, artificial sweeteners, gluten, dairy, or synthetic dyes, these chewable women's multi are a great option for someone who wants an alternative to a capsule.
9. Centrum Multivitamin for Women
Centrum's multivitamin for women is formulated iron, micronutrients, and antioxidants to help support overall health, increase energy, boost immunity and metabolism.
This product is verified non-GMO and gluten-free and is of great value with 250 servings!
10. One A Day Women's Petites Multivitamin
One A Day has made these petites multivitamins to make their tablets easier to swallow.
Half of the ingredients provide the user with at least 100% of their daily value needs. This is a very cost-effective option as you are provided with 80 servings for under ten dollars.
Best Overall Women's Multivitamin
1. Ritual
Ritual essential for women contains everything a woman needs, at dosages that have been clinically proven to support your body effectively. This product differs in that it comes encapsulated in oil ensuring the fat-soluble vitamins make it to where they need to go.
Thanks to its simple yet effective formulation, Ritual takes our number one spot for best overall multivitamin for women.
Best Multivitamin for Women Over 50
1. Performance Labs NutriGenesis Multi for Women
As women age, their nutritional requirements change, and Performance Labs has created a product to help support those changes.
This formulation has less iron and greater quantities of B complex vitamins making it a great choice for women entering a new stage in their life.
Best Chewable Multivitamin for Women
1. Smarty Pants Women's Formula
 If you can't swallow pills, SmartyPants has provided a very effective alternative. These gummies have a good dose of vitamin D in addition to iodine and folate which are some of the most important nutrients for women.
Although it does have some shortcomings when compared to some capsule products, SmartyPants is the best if you are looking for a gummy.
Best Performance Multivitamin for Women
1. Legion Triumph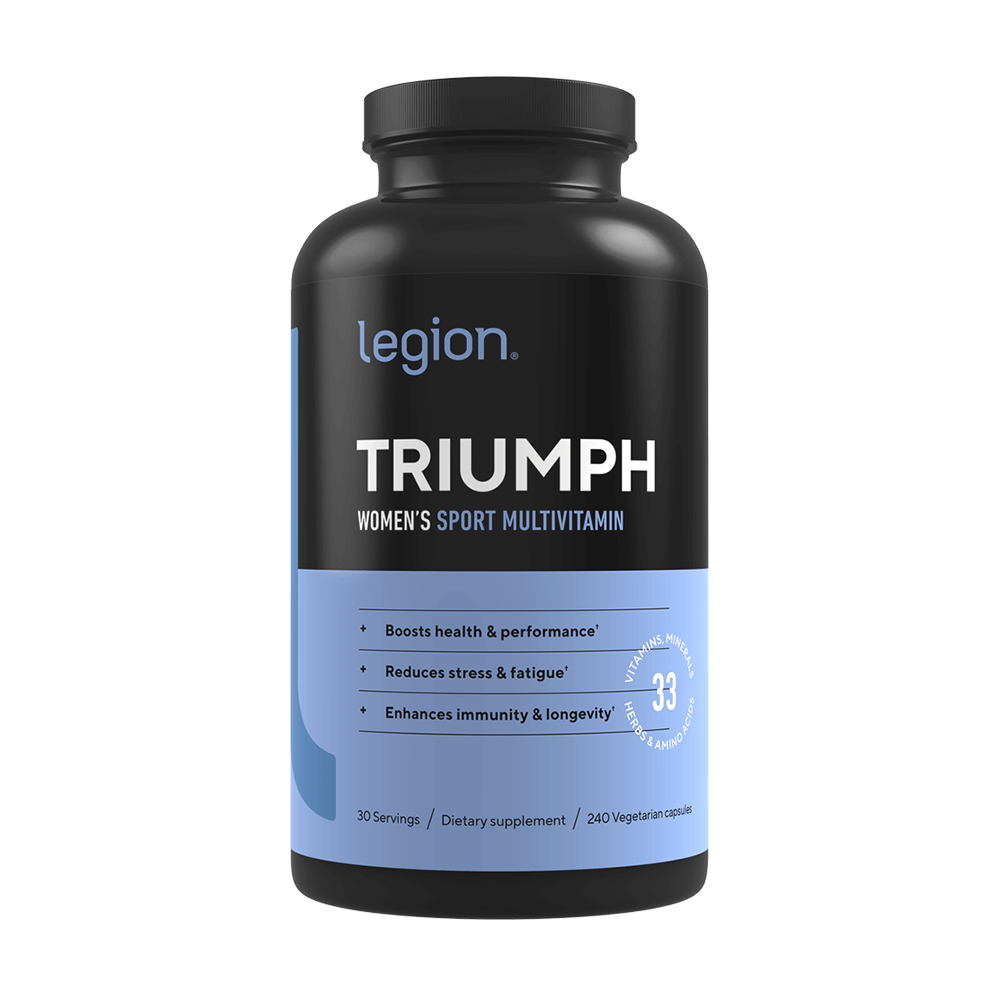 Just as it states in the name, this women's sports multivitamin is a fantastic product to support overall health but has some additional performance benefits as well.
Ingredients like acetylcysteine, olive leaf extract, CoQ10, and some others have been shown to improve physical performance, heart health, and blood flow.
Who Should Use a Multivitamin for Women?
A multivitamin in general is a general health support supplement that provides your body with all the nutrients it may need. The formulation of women's multivitamins is specifically geared towards supporting women's health and the differences that it comes with. Calcium, folate, and iron, and just three things that women need in particular quantities to help optimize their health.
A women's multivitamin is different than a prenatal because these vitamins are further tailored to the needs of a woman's body pre-pregnancy. Many women will switch from their original multivitamin to a prenatal one when they get pregnant and then switch back post-birth.
The vitamins and minerals included in these formulations are made to work synergistically to build and help maintain good bone density. Many cases of osteopenia and osteoporosis are caused by a lack of proper nutritional diets. As you age, you become more susceptible to fractures due to the decrease in your bone density.
Older women also have nutritional needs that differ from younger women due to the changes that menopause causes in the body. Research has shown that the hormonal changes that occur throughout menopause are associated with decreased levels of calcium, magnesium, zinc, copper, vitamin E, and vitamin A (1). As such, taking a multivitamin supporting these changes is important to maintaining good overall health as you age.
Methodology
The sheer volume of multivitamins out there for women is quite astounding. It seems like any supplement company has at least one formula for a women's multivitamin. Our rankings reflect products we found to be the most effective, clean, and specialized for women.
Ingredients specific to women: Women's multivitamins differ from the men's versions with a couple of different ingredients specific to boosting female health. It was important for the products to make our rankings that they had high amounts of iron, calcium, folate, vitamin D, vitamin K, and B complex vitamins.
It was also important to find products that had different formulations for different ages. Performance labs for example have less iron and more B vitamins as women above the age of 50 require a different nutrient blend compared to someone in their reproductive years.
No fillers or additives: Products that contained excessive fillers, coloring or bulking agents were automatically eliminated from this ranking. It was important to us to provide a list of products that only included ingredients that had a purpose.
Due to the nature of a multivitamin, when you are ingesting a supplement meant to provide you with support for your body, you don't want additional ingredients or agents to take over the beneficial ones.
Clinically effective dosages: Many multivitamins contain unnecessary ingredients, fillers, and preservatives. The amount of each vitamin and mineral was important when picking products to make our list. Ritual, for example, contains only 9 of the most essential vitamins and minerals every woman needs to optimize their health.
The dosages in many of the top products on this list are clinically backed, ensuring that you are getting exactly what you need.
Age-specific benefits: There are different nutrient profiles that are required for different ages due to the changes that occur in the body. As females, hormonal changes are very common especially when transitioning from a reproductive period to a menopausal period. As your body changes and enters a different phase, it needs to be supported with different nutrients.
For example, women over 50 will benefit from more skin elasticity and bone density micronutrients like calcium, vitamin E, and vitamin D3. Whereas someone who is still in their reproductive years will benefit from having more folate.
Benefits
Women's multivitamins can help boost metabolism and support weight loss. Iodine is one of the key ingredients found in most multivitamins for women. Iodine, at the right dosage, helps the thyroid and provides it with a natural boost; it's one of the main reasons fr salt ionization (2).
The thyroid is the master regulator of your metabolism and any aid we can provide it, naturally, to keep it running effectively will be beneficial to overall health and, may contribute to weight loss.
In 2010, the International Journal of Obesity published a study showing that multivitamins could help reduce waist circumference and weight without any exercise or dietary interventions. The participants showed an 8-pound weight loss over the span of just over 6 months (3).
Women's multivitamins reduce signs of aging. Finding ways to reduce the signs of aging is always a bonus when looking at any kind of supplement. Some multivitamins contain more beautifying ingredients than others. Biotin and vitamin C can both help with increasing the texture of your hair and skin.
Vitamin C, in particular, can help with antioxidants as well as long-term brain health. One study showed that a lack of vitamin C in your body is associated with accelerated levels of brain aging and the diseases that come along with it (4).
Women's multivitamins improve energy levels. Multivitamins, amongst other things, contain several vitamins and minerals essential for higher more consistent energy levels. Iron, B12, and CoQ10 all help your body with increased energy levels through different mechanisms such as reducing oxidative stress.
Many vitamins and minerals can also help your brain health, decrease depression and increase your mood which can all play an effect on increasing your overall energy.
One study showed that patients suffering from long-term chronic fatigue had noticeable improvements in their energy levels after supplementing with a multivitamin (5).
Women's multivitamins fill possible gaps in your existing diet. Many people understand the effects that macronutrients (proteins, fats, and carbs) play on your overall health, weight, and diet. What people tend to overlook is the quantities of micronutrients (vitamins and minerals) we require to support our bodies and improve our physiological functions.
These micronutrients are what provide your body with the energy and fuel it needs for effective anabolic function as well as optimal performance.
Multivitamins for women specifically support nutrition gaps women lack such as iron and B complex vitamins. These micronutrients are responsible for reducing the risk of diseases and improving the optimization of overall health.
Harvard Health Publishing released an article in 2019 with evidence suggesting that taking multivitamins help to lower your risk for vision impairments, cancer, cardiovascular disease and improve your cognitive abilities (6).
Women's multivitamins may provide an immunity boost. Our immune systems work hard to fight off viruses, diseases, and bacteria to keep our bodies in peak condition. Basic multivitamins contain vitamin C, B6, D, and E that all work together to strengthen your immune system.
Some multivitamins contain even more immune-boosting ingredients such as vitamin A, zinc, and even some ancient herbal ingredients like deodorized garlic.
A study looking at the effects of vitamin C, which is an ingredient found in virtually every multivitamin, suggests that vitamin c can prevent and even treat both respiratory and systemic infections (7).
Women's multivitamins increase bone density and protein synthesis. Proper movement, good posture, strong bones, and less frequent injuries can all be attributed to healthy muscles and bones. Several vitamins and minerals, like calcium and vitamin D, are essential for bone health, strength, and development. Vitamin A supports protein synthesis and vitamin C helps with tissue growth and repair.
Other bone-boosting ingredients like soy isoflavones, boron, vitamin K, zinc, and copper all work synergistically with the main bone supporting ingredients to further enhance their effectiveness.
Women's multivitamins prevent heart disease. Heart disease has unfortunately taken the top spot as the number one cause of death in America (8). Many lifestyle habits can lead to suboptimal heart health such as lack of exercise, poor diet, and lack of sleep.
You are depriving your body of the essential nutrients it requires to function and because of this, it leads to your arteries clogging and putting additional stress on your how body.
Supplementing with a multivitamin as part of your daily routine has the capacity to be lifesaving and help prevent the most dangerous disease in the United States. Vitamin C and grape seed extract both works to improve blood flow and help reduce the risk of developing heart disease.
One study looking at two groups of women, one with no history of cardiovascular disease and another that had a history of it. The scientists looked at the effects of a multivitamin on heart health and saw that the multivitamins reduced women's chances of having a heart attack (9).
Women's multivitamins increase brain health. Vitamin B12 along with a couple of other ingredients like lutein and many carotenoids have been shown to reduce memory loss and improve cognition. Low levels of vitamin B12 have been proven to be associated with poor cognition, and dementia (10).
A study looking at women between the ages of 64 and 79 years old with memory complaints found that the usage of multivitamins might enhance neural efficiency during memory retrieval (11).
Another study in 2010 was looking at the efficacy of multivitamins on memory and found that the participants who supplemented with the multivitamins saw improvements in their memory (12).
Although multivitamins in relation to memory can benefit people of all ages, it shows greater effects on the geriatric population due to the pre-existing degeneration of the brain.
Women's multivitamins help to decrease the risk for cancer. Cancer is the abnormal rate of cell division. A common cause that can contribute to cancer is the lack of proper nutrients or a poor diet.
A study in 1998 looked at the effects of taking a multivitamin and the risk of colon cancer (13). This study was one of the longest and largest women's studies to date.
The scientists found that daily, long-term multivitamin use containing more than 400mcg of folate was associated with a substantial decrease risk of colon cancer. This same effect was not found in those whose multivitamins contained folic acid.
Death due to breast cancer can also be affected by the use of multivitamins. A 2013 study looking at postmenopausal women with invasive breast cancer had lower mortality from their cancer when consuming daily multivitamins (14).
Women's multivitamins contribute to improved mood. The vitamins and minerals absorbed by your body play a significant role in the neurotransmitters and hormones that control your mood. Low levels of certain micronutrients and been linked to cognitive decline and changes in mood.
One study linked low levels of zinc in the body to higher levels of depression (15). Another study found that vitamin d deficiency is correlated with depression in adults (16). This is important to note because although many cases of depression and mood are not due to a micronutrient imbalance, the ones that are saving the person from having to go on antidepressants for an extended period of time.
These drugs can have a host of side effects that in some cases could've been avoided by simply taking a multivitamin or looking at your micronutrient profile.
Women's multivitamins improve eye health. Your eye health can be a snapshot of your overall health. The phrase the eyes are the windows to your soul can be slightly reworded to "your eyes are the windows to your health". It is well known that the healthier your eyes are, the healthier your body is as a whole.
There is ample evidence to suggest that multivitamins decrease the risk of age-related cataracts (17). Many multivitamins are full of different carotenoids that work towards improving overall eye health and protecting them against damage.
There is no avoiding aging and the side effects that come along with it including a decline in vision. However, there are things we can do to prolong our eye health and maintain healthy vision for longer.
Women's multivitamins reduce stress and anxiety. Our society today faces a common problem of chronic stress and anxiety. Low levels of iron, magnesium, B12, and folic acid can contribute to feeling increased levels of stress and anxiety.
A study done in 2018 found that people who ate higher levels of vitamin B12 had better stress and anxiety scores compared to the participants who consumed lesser quantities (18).
Another study showed that people taking vitamin D had reduced levels of anxiety (19). Research looking at the correlation between magnesium and decreased anxiety found that women with premenstrual syndrome (PMS) benefited from supplementing with magnesium (20).
Recap
Multivitamins for women are specifically designed to support their bodies through different phases of life. While it is imperative to incorporate a good, balanced diet, and proper exercise regime, adding a multivitamin to the mix will only support your body further.
For women looking to improve their physical, hormonal, and mental well-being, reduce their risk of chronic disease and eliminate nutritional deficiencies, multivitamins will help give your body what it needs.
Many of the health benefits that come with taking a multivitamin need time to present themselves and so consistency and patience are key.
For food4me.org's #1 women's multivitamin recommendation, click here.